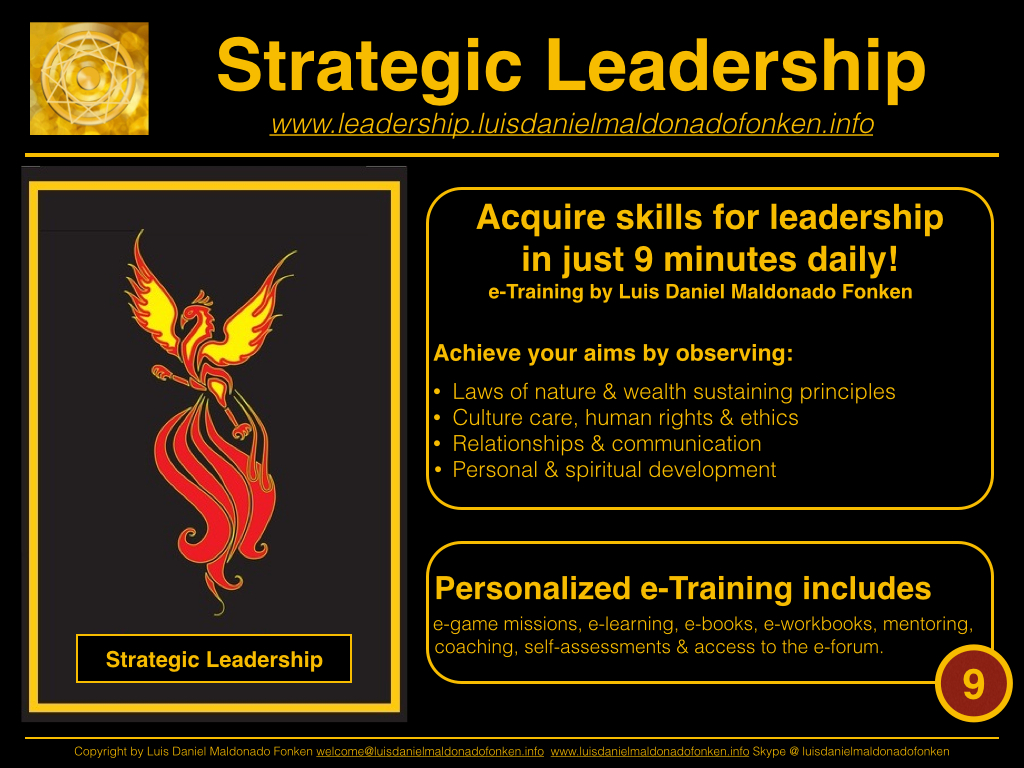 THE e-TRAINING Services
Personalized design
Choose number of sessions of e-training, e-coaching, key subjects of interests, skills you wish to develop and fields of application.
Self-Assessment Sessions  ( Try it now! )
Find out your strategic leadership ability rank.
e-Coaching
Advance your strategic leadership skills, along daily life, family and business challenges, with the support of a e-coach.
e-Training Modules ( Try a Monthly fee! )
Review and discuss key topics of study, case study, inspiration, knowledge, guidelines, workbooks, books, videos, information, personal and spiritual development topics.
PRICES:
CORE KNOWLEDGE
The core knowledge (Primordial Technology Applied to Leadership – Prime Tech has been developed by Luis Daniel Maldonado Fonken 1987 -2016)  is the foundation for the e-training.
In particular Leadership in the fields of Business, Culture, Corporate & Governance (Prime Tech Theta),  Peace, Culture & Life Care: (Prime Peace),  Personal & Spiritual Development (Prime Yoga), Love Relationships, Family (Prime Love), Wealth, Property & Heritage ( Wealthability ).
e-TRAINING PROCESS
Online self-assessment. Evaluation of customer strategic leadership skills, abilities, status, in relation to our standard Matrix 9+, Codex and Rank.
Design of a personalized e-learning program which includes all services described above.
The e-Training develops with focus on a field of application that suits the customer needs and interests. e-Modules of training are combined with e-coaching and e-self-assessment, e-game missions, e-books and GYM9s trainings.
SUBSCRIPTION & MEMBERSHIP
Every season new e-documents are published, and added to the e-forum, and e-learning programs. The subscription gives to the customer the right to have access to the e-documents*
The membership, is a flate rate, monthly/seasonal fee, paid for a basic set of services. (ask us for more details)